Website Design For Pharmacies
Create a Unique Website for Pharmacies with Dial a Website
In today's digital age, having a strong online presence is crucial for businesses, including pharmacies. A well-designed website can significantly impact the success of a pharmacy by attracting more customers, improving accessibility, and enhancing the overall user experience. Dial a Website understands the unique needs of pharmacies and offers a comprehensive WordPress custom Website Design For Pharmacies package specifically tailored for this industry. With unlimited web hosting, pages, products, emails, and more, along with essential features like SEO optimization, CMS integration, IT support, and a lifetime warranty, Dial a Website is the ideal solution for pharmacies seeking to establish a professional online presence.
Introduction: The Importance of a Website for Pharmacies
In an increasingly digital world, having a website is essential for businesses across all industries, including pharmacies. A website serves as a virtual storefront, offering customers convenient access to vital information and services. Furthermore, a well-designed website can enhance customer trust, credibility, and satisfaction.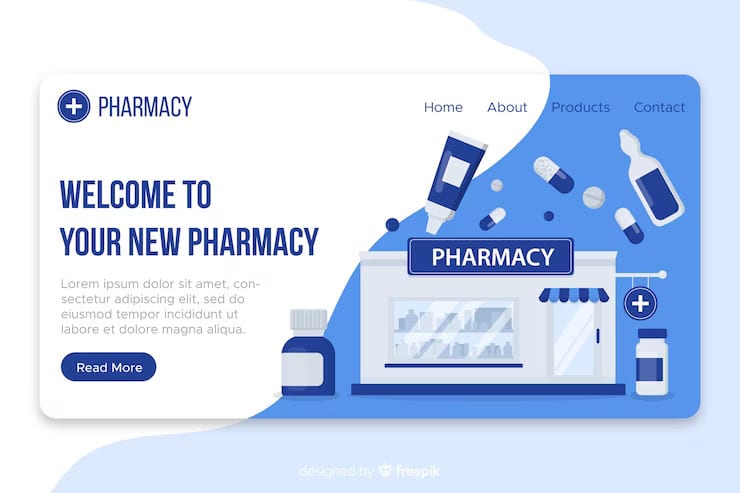 Dial a Website: Your Reliable Partner for Custom Website Design
Dial a Website specializes in creating custom WordPress websites specifically tailored for pharmacies. With their expertise in web design and development, they offer pharmacies a seamless and user-friendly online experience. Whether you require a simple information-only website or a more interactive platform, Dial a Website can meet your specific needs.
Comprehensive Features for Pharmacy Websites
Dial a Website understands the unique requirements of pharmacies and provides a range of comprehensive features to ensure a successful online presence:
Unlimited Web Hosting, Pages, Products, and Emails
With Dial a Website's package, pharmacies enjoy the benefit of unlimited web hosting, allowing for seamless scalability and accommodating future growth. Additionally, they can create an unlimited number of pages, allowing pharmacies to showcase their services, provide educational resources, and promote special offers. Pharmacies can also display an unlimited number of products, allowing customers to browse and purchase items conveniently. Moreover, Dial a Website offers unlimited email accounts, ensuring effective communication with customers, suppliers, and other stakeholders.
SEO Optimization for Enhanced Visibility
To drive organic traffic and increase visibility in search engine results, Dial a Website incorporates Search Engine Optimization (SEO) techniques. By optimizing the website's content, structure, and meta tags, pharmacies can improve their search engine rankings and attract more potential customers. This ensures that when individuals search for pharmacy-related keywords, such as "website for pharmacies," they are more likely to discover the pharmacy's website.
User-Friendly Content Management System (CMS)
Dial a Website integrates a user-friendly CMS into their custom websites, empowering pharmacies to easily manage and update their content. The intuitive interface allows pharmacies to add new products, update pricing and promotions, publish blog posts, and make other necessary changes without requiring advanced technical knowledge. This flexibility ensures that pharmacies can keep their website up to date and provide customers with relevant and engaging information.
Dedicated IT Support and Lifetime Warranty
Understanding the importance of a reliable website, Dial a Website offers dedicated IT support to assist pharmacies in case of any technical issues or questions. Their team of experts is readily available to address concerns promptly, ensuring the website operates smoothly. Additionally, Dial a Website provides a lifetime warranty on their custom website designs, giving pharmacies peace of mind and ongoing support.
Your Own Personal Web Designer and Free Updates
When partnering with Dial a Website, pharmacies gain the advantage of having a personal web designer assigned to their project.
Free Technical Support and Submission to Top Search Engines
Dial a Website understands the importance of reliable technical support. They provide free technical support via both phone and email, ensuring pharmacies have access to assistance whenever needed. Additionally, they offer free submission to top search engines like Google, Yahoo, AOL, and MSN, ensuring that the pharmacy's website receives maximum exposure to potential customers.
Visitor Website Statistics and Google Site Map Creation
With Dial a Website's package, pharmacies gain access to visitor website statistics. This valuable data allows pharmacies to analyze website performance, understand user behavior, and make data-driven decisions to enhance the user experience. Furthermore, Dial a Website automatically creates a Google site map, improving website indexing and ensuring search engines can effectively navigate and rank the pharmacy's website.
Affordable Pricing Plans for Different Website Types
Dial a Website offers affordable pricing plans to cater to various types of pharmacy websites. For information-only websites, the cost is just £10 per month. These websites focus on providing essential information about the pharmacy, such as location, opening hours, and services offered. For more advanced interactive websites that include features like online ordering, appointment booking, and prescription refills, the cost is £20 per month. These websites offer enhanced functionality and engagement for customers.
Frequently Asked Questions (FAQs)
Q: How long does it take to create a custom website for a pharmacy? A: The timeline for creating a custom website depends on the complexity of the project and the specific requirements of the pharmacy. However, Dial a Website strives to deliver websites in a timely manner and will provide an estimated timeline during the initial consultation.
Q: Can I update the content of my website on my own? A: Absolutely! Dial a Website incorporates a user-friendly Content Management System (CMS) into their custom websites, allowing pharmacies to easily update and manage their content without technical expertise.
Q: Do I need to purchase a domain name separately? A: No, Dial a Website includes a domain name registration as part of their package. They will assist you in selecting an appropriate domain name that aligns with your pharmacy's brand.
Q: What happens if I encounter technical issues with my website? A: Dial a Website offers dedicated IT support to address any technical issues promptly. You can reach out