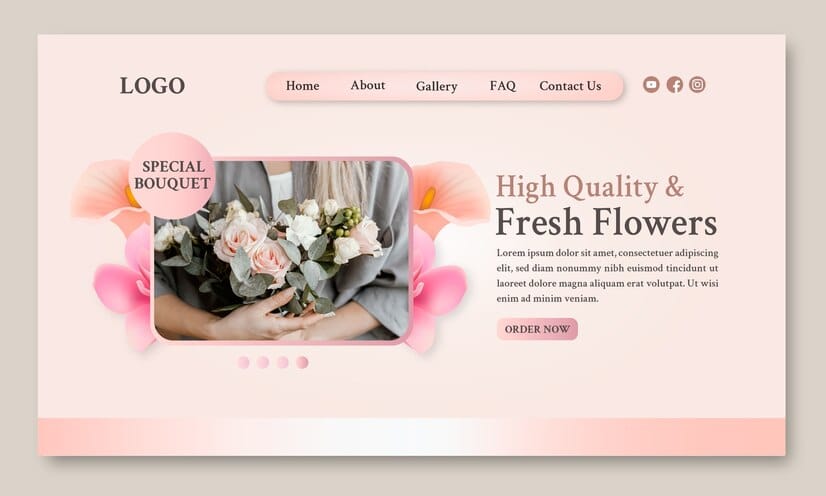 Website Design For Florists
Transform Your Florist Business with a Custom WordPress Website Design by Dial a Website
In the competitive world of floristry, establishing a strong online presence is essential for reaching new customers and growing your business. A well-designed website serves as a virtual storefront, allowing florists to showcase their beautiful arrangements, attract customers, and facilitate online orders. Dial a Website understands the unique needs of florists and offers a complete WordPress custom website design that combines aesthetics, functionality, and powerful features to help florists thrive in the digital landscape. With unlimited web hosting, pages, products, emails, and an array of other essential features, Dial a Website ensures that florists can effectively showcase their creativity and connect with their target audience.
Introduction: The Importance of a Website for Florists
In the digital age, a visually appealing and user-friendly website is an invaluable tool for florists to attract customers and promote their floral creations. A well-designed website allows florists to showcase their unique arrangements, provide essential information about their services, and offer a convenient platform for customers to explore, select, and order flowers. By having an online presence, florists can expand their reach beyond their local area and attract customers from different locations. A professionally designed website enhances the credibility of a florist business and creates a lasting impression on potential customers.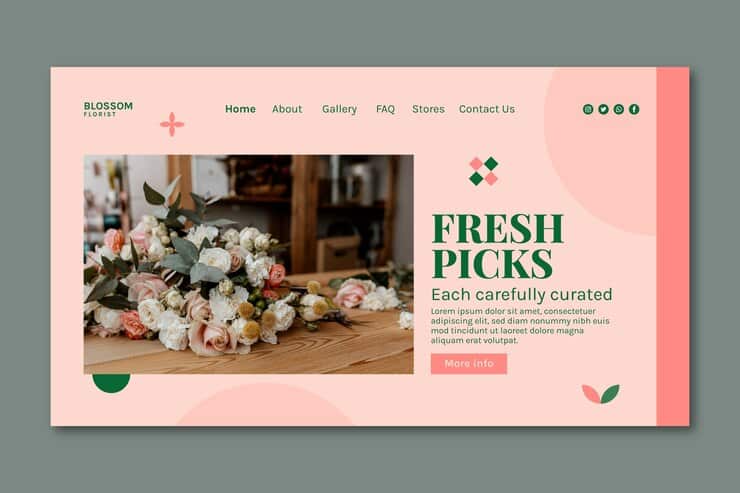 Dial a Website: Your Partner in Custom Website Design for Florists
Dial a Website specializes in creating custom WordPress websites exclusively tailored to the needs of florists. With their expertise in web design and development, they are committed to empowering florists with a website that not only reflects their brand and style but also captivates customers and drives sales. Whether you are a small local florist or a large floral business, Dial a Website is here to support you in establishing a captivating online presence.
Comprehensive Features for Florist Websites
Dial a Website understands the specific requirements of florist businesses and provides a wide range of comprehensive features to ensure their websites are visually stunning, functional, and user-friendly:
Unlimited Web Hosting, Pages, Products, and Emails
With Dial a Website's package, florists can enjoy the benefits of unlimited web hosting. This ensures that their websites can handle high traffic and provide a seamless browsing experience for visitors. Florists can create unlimited pages to showcase their floral arrangements, services, events, and special promotions. Furthermore, Dial a Website allows florists to display and sell their products with unlimited product listings. Additionally, florists can have unlimited email accounts, facilitating communication with customers, suppliers, and partners.
SEO Optimization for Enhanced Visibility
Dial a Website incorporates Search Engine Optimization (SEO) techniques into the website design to increase the visibility of florist businesses in search engine results. By optimizing the website's content, meta tags, and structure, Dial a Website helps florists improve their organic search rankings.
User-Friendly Content Management System (CMS)
Dial a Website integrates a user-friendly Content Management System (CMS) into florist websites. This intuitive system allows florists to easily manage and update their website's content without relying on technical expertise. Florists can effortlessly add new floral designs, update pricing, create blog posts, and make other necessary changes to keep their website fresh and engaging.
Dedicated IT Support and Lifetime Warranty
Dial a Website recognizes that technical issues or questions may arise during the operation of a florist website. Therefore, they provide dedicated IT support to address any concerns promptly. Florists can rely on their team of experts to resolve technical issues and provide guidance whenever needed.
Personal Web Designer and Unlimited Free Updates
When florists choose Dial a Website, they are assigned their own personal web designer who works closely with them to bring their vision to life. This personalized approach ensures that the website design reflects the unique style, brand, and identity of the florist business. Dial a Website also offers unlimited free updates, allowing florists to make changes, add new floral arrangements, update pricing, and adapt their website as their business evolves. With Dial a Website, florists have the flexibility to keep their website up-to-date and in line with the latest trends and offerings.
Free Technical Support and Submission to Top Search Engines
Dial a Website provides free technical support to ensure that florists have assistance whenever they encounter technical issues or have questions about their website. Their support team is readily available via phone and email, offering prompt and reliable assistance. This ensures that florists' websites are indexed and visible to potential customers searching for floral arrangements and related services.
Visitor Website Statistics and Automatic Google Site Map Creation
With Dial a Website's package, florists gain access to visitor website statistics. Furthermore, Dial a Website automatically creates a Google site map for florist websites. This feature helps search engines effectively navigate and index the website, improving its visibility and discoverability in search engine results.
UK-Located Reliable Website Hosting
Dial a Website provides reliable website hosting services located in the UK. Hosting florist websites in the UK ensures fast loading times, enhanced security, and compliance with local data protection regulations.
Affordable Pricing Plans for Different Website Types
Dial a Website offers affordable pricing plans to accommodate the diverse needs of florist businesses. For an information-only website, the cost is just £10 per month. These websites focus on providing essential information about the florist's services, location, and contact details. They act as a digital brochure for customers to explore and learn more about the florist's offerings. If a florist requires a more advanced interactive website that includes features such as online ordering, delivery tracking, customer accounts, and personalized recommendations, the cost is £20 per month. These websites provide increased functionality and convenience for both the florist and the customers.
Frequently Asked Questions (FAQs)
Q: How long does it take to create a custom website for a florist business? A: The timeline for creating a custom website depends on the complexity of the project and the specific requirements of the florist. During the initial consultation, Dial a Website will provide an estimated timeline based on the florist's needs and preferences.
Q: Can I integrate an online ordering system into my florist website? A: Yes, Dial a Website can integrate an online ordering system into your website, allowing customers to browse your floral arrangements, select items, and place orders conveniently.
Q: Can I showcase my portfolio of past floral designs on my website? A: Absolutely! Dial a Website provides the flexibility to showcase your portfolio of past floral designs. You can create a gallery or dedicated page to display your stunning creations and inspire potential customers.
Q: Can I track the performance of my florist website? A: Yes, Dial a Website provides visitor website statistics that allow florists to analyze website performance, track user behavior, and gain insights to enhance their marketing strategies.
Q: Is the pricing inclusive of all features mentioned? A: Yes, Dial a Website's pricing includes all the features mentioned, such as unlimited web hosting, pages, products, emails, SEO, CMS, IT support, lifetime warranty, and more. There are no hidden costs beyond the monthly fee and one-time setup fee.